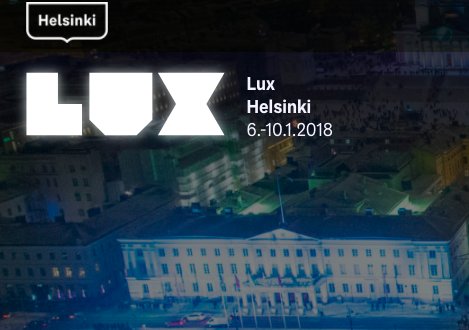 The official Lux Helsinki route starts at Esplanade Park with Micro Gallery, a series of tiny light installations. The Micro Gallery presents a wide range of video, light and concept art by numerous artistswe saw  the light of a sunset that has been stored in a can. So we meet Minimal, a minimalistic light installation that has been created by the XYZ Collective from Tampere.
A laser beam reflects off mirrors to create a tiny space that you can view from above. Blink, by British artist Jim Bond, is a kinetic sculpture whose lifeless stare torments viewers – until the blinking begins. Then Jim Bond, that creates interactive sculptures in which parts of the human body are combined with motors, electronics, sensors and computers, we found  Janne Parviainen creates light paintings in which the surrounding reality is transformed into a magical world of light. Space-Time Continuum is an unpredictable mixture of kinetic light and organized trash. The artwork provides an abstract view to the structure of cosmos surrounding us but also a cutting image of our time: the trace that our species seems to be leaving behind consists of electronic waste and plastic. Then we meet SWÄG a collective of musicians, designers and artists from Tampere that focuses on creating audiovisual art, the installation "Subliminal  explores how we observe and manage space. Abstract geometrical, simulated three-dimensional spaces that are created inside a shipping container are connected to a hyper-commercially programmed, subliminal data flow created by artificial intelligence," describes the artist Joonas Toivonen.
The Lux Architecture series focuses this year on the Erottaja Fire Station. The aim of this series is to highlight Helsinki's architectural gems by means of exceptionally brilliant and impressive lighting. This year the most beautiful fire station in Finland gets the attention it deserves by revealing it in a new light.
Irmeli Huhtala is a photographer exibits LuxFlower
"Light and dark, colour and contrast are integral to my flower arrangements. The possibilities offered by digital image processing led me to explore how colours appear in contrast, just like negatives in the old days. The flowers arranged in the vase glow with beauty and light for a moment, until they dry up and are thrown away"
Lantern Park is a perennial favourite at Lux Helsinki, and this year it light up the Koulupuistikko park. Hundreds of unique
lanterns will create a dreamlike and magical atmosphere. This year's lanterns have been made by students from Aalto University, Aleksis Kivi Primary School, Kallio Upper Secondary School and Helsinki Upper Secondary School of Visual Arts, with empty drinks bottles, CD cases and glass jars.
Janne Ahola's installation Time's RoleAhola brings the courtyard façade of the Museum of Finnish Architecture to life by using projection mapping technology, a visual presentation method that creates a world of illusion on the façade of a building by means of projecting light. At the same time the building is momentarily given a new identity and persona.
Ultraviolet Gallery is a joint work by six Finnish graffiti artists that has been created by utilising ultraviolet radiation on a shipping container. The brightest neon colours of the installation gain a whole new life when observed using black light. Like graffiti, long-wave UV radiation creates big costs each year for man-made surface structures. The group UVG explores the connection between these two concepts by adding the style and aesthetic form language of each of  artists to the raw surface of a shipping container.
We found internationally renowned minimalistic neon light installation my light is your light by the Lebanese-Palestinian artist Alaa Minawi, this installation represents a fleeing refugee family and can be seen in the Kasarmitori square. Both moving and topical, the installation forces the viewer to engage with war and the refugee issue while reminding us of the consequences of war: refugees, suffering and homelessness. "My light is your light… is a tribute to every person who was forced to leave his/her home," alaa minawi describes. In collaboration with Amnesty International, Finnish Section
"Sugar Cube is a white cube coated with colours and reflections. It is empty yet filling. The fragment of some lazy or sweet thought in which to get lost. Tülay Schakir is a Finnish visual artist and light designer. In addition to light, the installation
yalso features another intangible element in the form of AR (Augmented Reality) that can be experienced on your mobile device. Simply download the Arilyn app from your app store. In collaboration with Arilyn.
Dark Ideas is an installation designed by British artist Duncan Matthews, it is not a traditional form of lighting façades, as the main equipment consists of up to twenty old projectors. The installation interacting with the surface, concentrating on interesting details on the specific wall, creating something light and friendly from the darkness.
The official Lux Helsinki route ends with the installation at
Helsinki Cathedral. László Bordos from Hungary is a world-famous pioneer in 3D mapping who this time transforms one of the most iconic buildings in Helsinki into a breathtaking projection surface.
Using dozens of controllable lights and stroboscopes, the artist creates a light sculpture using a combination of real lights and virtual lights (projection).
Arch Grazia Palazzo
Antonio Di Martino